---
* Stock on backorder, due to the crazy situation the world is in there has been a break in supply chains and as a result, the TACX agents in SA are now only expecting the next shipment of TACX trainers to arrive in SA around last week of July / 1st week of August. You are welcome to order your unit now to ensure you are one of the first to receive trainers as soon as they arrive. 
Basic indoor trainer
* Manually controlled trainer features 10 resistance levels
* Powerful magnetic brake allows for intense interval sessions
* Virtually silent flywheel lets you ride without disturbing others
* 1.65 kg flywheel simulates the feel of riding outdoors
* Sturdy design allows for a maximum sprint resistance of 1,050 watts
Perfect for power-based workouts, Tacx® Booster is a powerful trainer capable of generating high resistance at low speeds. Manual resistance lets you control your workout, while a compact flywheel generates a realistic road feel.
You're in control
Easily change the resistance of your ride with a lever attached to your handlebar. With 10 positions and a maximum power of 1,050 watts, this trainer is perfect for any kind of workout. A powerful magnetic brake even lets you do intense interval sessions and power-based workouts.
Smooth and silent
The Booster trainer features a closed resistance unit and a single roll core with soft plastic to absorb vibrations. This dramatically reduces noise, so you can ride without disturbing others nearby.
A realistic ride
The 1.65 kg flywheel is able to replicate a mass inertial effect of 9.18 kg, giving you the feel of riding outdoors.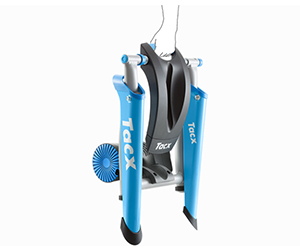 Front wheel support 
Booster features a front wheel support that raises the front wheel and creates a more natural cycling position and increased stability. It also serves as a handle, so you can easily carry the trainer when you're done riding.
Made to last
No matter how intense your workout, this bike trainer is stable and built to last. It securely locks your bike into place with two easy clicks, so you can ride hard and know you're not going anywhere. The Booster trainer also features a single roll made from a hardened steel sleeve to prevent wear.
Virtual power
With the addition of the Tacx speed and cadence sensor, you can train with popular apps — based on virtual power — such as Zwift, TrainerRoad and Tacx software. The sensor transmits your speed and cadence wirelessly to your compatible smartphone, tablet or computer.
In The Box
* Booster Trainer
* Front wheel support
* Quick release for road bikes and mountain bikes (5 mm)